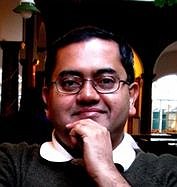 Not registered as user yet
Name:
Samarjit Chakraborty
Bio:
Samarjit Chakraborty is a professor of Electrical Engineering at TU Munich in Germany, where he heads the Institute for Real-Time Computer Systems (RCS). Prior to joining TU Munich, from 2003 - 2008 he was an Assistant Professor of Computer Science at the National University of Singapore. He obtained his Ph.D. in Electrical and Computer Engineering from ETH Zurich in 2003. His research interests cover all aspects of system-level design of real-time embedded systems and software, including automotive electronics and software, advanced automotive driver assistance systems, e-mobility, electric vehicles, real-time multimedia processing, and body-area sensor networks for health monitoring. In addition to his Chair at TU Munich, Prof. Chakraborty leads a research program on embedded systems design for electric vehicles, at the TUM CREATE Centre for Electromobility in Singapore, where he also serves as a Scientific Advisor.
Prof. Chakraborty has published over 100 articles on various aspects of real-time, embedded and cyber-physical systems, and regularly serves on the technical program committees of DAC, DATE, CODES+ISSS, EMSOFT, ASP-DAC, RTSS and RTAS. He has served as the general chair of the Embedded Systems Week (ESWeek) 2011, was one of the general chairs of the 9th International Conference on Embedded and Ubiquitous Computing (EUC) 2011 and is a general chair of the IEEE International Symposium on Industrial Embedded Systems (SIES) 2012. He has also served as the technical program committee chair of the International Conference on Embedded Software (EMSOFT) 2009, and has been a Track/Topic Chair in several editions of DATE, ASP-DAC and RTSS.
For his Ph.D. thesis, he received the ETH Medal and the European Design and Automation Association's Outstanding Doctoral Dissertation Award in 2004. His work has also received Best Paper Awards at ASP-DAC 2011, EUC 2010, a HiPEAC Paper Award in 2009 and Best Paper Award nominations at RTSS 2011, EMSOFT 2010, CODES+ISSS 2008, ECRTS 2007, CODES+ISSS 2006, and DAC 2005.
Contributions